La Follette Avenue
High-Speed Rail Corridor Group
East of Anziger Court and Winnebago Street and West of Waubesa Street
aka most of city ward 33 or Census Tract 20-Block Group 4, per the 2000 census
map of route
resources
what we know
News stories from neighborhood residents and media outlets

Final recommendations
Postsed February 1, 2011. See PDF for details.
States continue regional high-speed rail planning process
Wisconsin loses rail funds

Wisconsin will not receive the $810 million the federal government allocated to build high-speed rail between Milwaukee and Madison, news outlets report.

Feds to take Wisconsin's high-speed rail money, give it to other states, December 10, 2010, Wisconsin State Journal

High-speed rail funds scatter to other states, December 9, 2010, Milwaukee Journal Sentinel

More U.S. Rail Funds for 13 States as 2 Reject Aid, December 9, 2010, New York Times

box added December 10, 2010
By Heidi Nelson
First off, irony. It took me 30 minutes to get from the capitol to the Crowne Plaza on East Washington Ave. Once there, another 20 minutes to find parking - all lots, surrounding businesses, and sidestreets were jammed with cars for this meeting.
The December 7 meeting on high-speed rail was focused on the planning effort led by Minnesota to create a connection between Milwaukee and Chicago. The presentation focused on the process to date, and laid out what the next steps will be. Several times they stressed that they are not in the implementation stage, nor were they prepared to talk on the Milwaukee-Madison segment and $800+ million.
Key points incuded that the rail planning effort is part of an integrated approach to meeting future transit demand. They also emphasized that they are still working on evaluation of several route options based on criteria — such as proximity to urban areas, existing rail lines, etc. The part that I found most compelling was the point that regional rail planning has been underway since 1995, with the goal of developing regional infrastructure that would feed the nationwide system.
Despite this, most of the comments were obviously dealing with the issue at hand. Most news reports are grossly misrepresenting the split, of the 650 people (which I believe was an accurate count), I would estimate that there were only about a dozen vocal opponenets to (apparently) any sort of rail development. Only 2 opposing comments were voiced publically, both stating that rail is too expensive (again, apparently any sort of rail investment). There were concerns and questions from speakers who fell on the supportive side, including how landowners might be impacted, train speed (one person wanted it to be faster), and support for a route that goes through Madison, in particular due to the reciprocity between the University of Wisconsin–Madison and the University of Minnesota.
A take-home message was implied, that while governor-elect Scott Walker's stance is a pain in the ass, it ultimately does not change the need or intent for the planning efforts. I believe it was clear that it signified a delays. If the study suggests that Milwaukee–Madison–Minnesota is the most feasible or favorable option, then we start back at square one. At this point, the more likely scenario seems that this (and Walker's apparent statements) may mean that another route is pursued, leaving Madison in the same position as we are now.
Of the news articles I've seen, the one by Channel3000.com seems to be the most reflective of what I saw.
High-Speed Rail Meeting Draws Hundreds, December 8, 2010, Channel3000.com
650 people attend session on rail line between Milwaukee, Twin Cities, December 8, 2010, Wisconsin State Journal/Madison.com
Story posted December 9, 2010
What we know --
Consultants' responses to La Follette corridor group's October 13 questions formally submitted October 13, answered October 20
PDF of questions and answers from October 21 meeting
The train's speed is not the reason for installing a fence. "Safety" and stopping trespass is the reason, per the October 21 meeting.
No "final" decisions have been made, per the October 21 meeting.
Corry Street is on the list of streets DOT is considering closing. It is listed in the 2001 Environmental Assessment. The intended recommendation to close Corry was confirmed at the October 21 meeting.
Trains will go up to 40 miles an hour in the portion of the corridor parallel to La Follette Avenue. Gates will close for about 95 seconds, per the October 21 meeting.
A typical Milwaukee-Madison train will be 700 feet long, per the October 21 meeting.
The engineering is being planned so the trains will be quieter, the technical and public involvement experts from DOT and its consultants say, per the October 21 meeting.
No one's property nor any portion of their property will be condemned or seized. The intent is to fit the fencing and construction within the current railroad right of way, per the October 21 meeting.
Property owners can contact consultant Caron Kloser, 414-410-6776, CKloser@HNTB.com, to arrange for someone to discuss specific concerns from a property owner or resident. (added October 21)
In response to question "What will happen to property values, especially for homeowners adjacent to the corridor," consultant Caron Kloser responded October 20 by email [we suspect "Environmental Assessment" refers to the 2001 Environmental Assessment of Milwaukee-Madison Passenger Rail Corridor Project:
"The Environmental Assessment reviews potential effects on property values. At that time, the EA noted that existing studies indicated property values of homes within one thousand feet of an existing railroad track are lower compared to homes with similar characteristics in similar neighborhoods. Thus, it would be expected that the current value of homes in the project corridor reflect their proximity to the existing tracks. Previous studies do not account for the effect of increased activity in low-activity corridors.

"The effect on property values will likely vary depending on local market conditions and conditions of individual properties. Some decline may occur during construction and initial operation, and due to uncertainties about project impacts. As noted in the EA, residents adapt to rail operations, as demonstrated in the eastern portion of the project corridor where the CP Rail mainline corridor travels through communities. Over time, it could be expected that real estate values will stabilize and that rail operations on an existing track have little impact on values beyond the existing proximity impacts.

As a result of this potential impact, WisDOT committed to the corridor management plan process to help mitigate potential impacts to adjacent properties."
A six-foot-tall fence is highly likely to be installed on both sides of the railroad corridor to block off informal crossings, such as the path between Ohio Avenue and Farwell Street.
Depending on the width of the railroad's right-of-way, the fence could be anywhere from 12 feet to 66 feet from the center of the rails.
Fencing could be chain link, weave or tubular, but DOT/consultants refuse to release photographs of possible fencing types until later in the corridor management plan development process, per statements given at the September 8 corridor management plan team focus group meeting.
Pedestrian-bicycle crossing at Wirth Court Park is likely to be closed or moved northwest and changed to a tunnel to a path that would connect to existing path. Sightlines on the curve make the crossing unsafe, according to DOT/consultants.
Streets closings, including Corry and/or Waubesa, could be closed. Note that the DOT and its consultants did not tell the Corridor Management Plan focus group that Corry Street was on the list of streets recommended for closure in the 2001 Environmental Assessment. Nor were they given a copy of the 317-page document.
Official pedestrian-bicycle crossings could be closed, such as those at Wirth Court Park and where Division Street deadends at the former Rayovac site.
Residents and property owners can make recommendations about fencing and which crossings to close and retain.
Residents and property owners can request that all crossings be of suitable design to eliminate the need for train whistles at specified intersections.
Residents and property owners can request all railroad right of way be kept to a minimum.
Residents and property owners can request all railroad right of way be landscaped.
The Milwaukee-Madison route will run six trains a day, which means high-speed trains will pass through the La Follette Avenue corridor twelve times a day as the train has to come into town and then go back out.
A DOT/consultant estimated a one-way ticket to Milwaukee will cost $26.
Also see DOT's FAQ page.

What has to play out
Whether freight traffic will increase. Transportation officials only expect it to increase if demand increases. However, history shows that improved transportation corridors lead to greater use as better infrastructure makes transport more efficient. However, Wisconsin Department of Transporation's November 1 From Vision to Reality high-speed rail newsletter says a reason to invest in high-speed rail is that it "[i]ncreases capacity and reduces travel times for freight rail operators." Until now, the message has been no one knows whether or how track improvements will affect freight traffic.
Whether rail system can operate without taxpayer support that does not exceed support taxes given to airports and the highway system.
Resources
News stories from neighborhood residents and media outlets
Answers given by consultants and DOT staff at October 21, 2010, meeting organized by La Follette Avenue High-Speed Rail Corridor Group
Answers given by consultants and DOT staff prior to October 21, 2010, meeting organized by La Follette Avenue High-Speed Rail Corridor Group
Source: October 20, 2010 e-mail from consultant Caron Kloser to Dan Melton, Karen Faster and others
Rail web site of The Daily Reporter, a Milwaukee-based publication targeted to the construction industry
2001 Environmental Assessment of Milwaukee-Madison Passenger Rail Corridor Project (317 pages)
Partial list of pertinent PDF page numbers: Corry and Division streets: 104, 150-153
Downloaded October 17, 2010, from Wisconsin DOT: ftp://ftp.dot.state.wi.us/MKE-MSN-PE/10-ServiceNEPADocumentation/
Publisher of www.ohioavenue.com/rail added page numbers to PDF
Information from an October 6 focus group meeting -- includes maps and concerns
Consultant: TranSmart Technologies
Madison-Milwaukee Passenger Rail Corridor Study Jan/Feb 2001 Frequently Asked Questions in the City of Madison Chris Klein of the city says September 5, 2010, about this document: "It is quite old. However, much of the information seems accurate. Some, of course, is out of date. We would need to update that with WisDOT."
Wisconsin High Speed Intercity Passenger Rail presentation slides, Madison Community Meeting, May 25, 2010
Schenk-Atwood-Starkweather-Yahara Neighborhood Public Mailing List email, discussion list
Schenk-Atwood-Starkweather-Yahara Neighborhood Association high-speed rail page
Wisconsin Department of Transportation high-speed rail site
Notes from first meeting of La Follette Avenue High-Speed Rail Corridor Group, September 9, 2010
Final meeting notes for September 8 and October 9 corridor management plan team focus group meetings
Final maps with comments on specific locations, from September 8 and October 6 meetings: La Follette Avenue portion (page 5) of corridor / all 15 maps
Advance on September 8, 2010, DOT/consultant meeting with corridor management plan team focus group
The red line on the map below shows the high-speed rail corridor, from paralleling East Main Street across Winnebago Street, arcing north of La Follette Avenue and cutting northeast between the two Madison Kipp plants to cross Starkweather Creek, Milwaukee Street and Powers Avenue. Line drawn by Karen Faster. Link to city map provided September 7, 2010, by Chris Petykowski of the City of Madison's Engineering Division.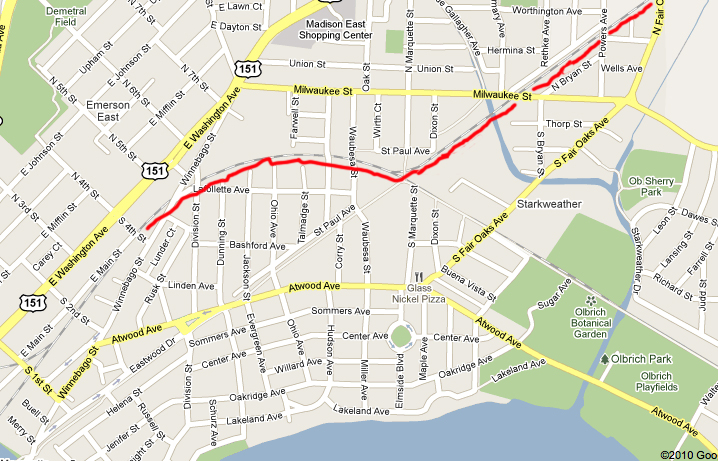 Web site is published by Karen Faster, 133 Ohio Avenue, Madison WI 53704
rail [at] ohioavenue [dot] com
Updated
February 1, 2011
December 6, 8, 9, 2010
November 2, 3, 5, 6, 12, 2010
October 10, 17, 18, 21, 23, 24, 2010
September 4, 5, 8, 13, 15, 16, 20, 2010
Posted September 1, 2010